Happy New Year everyone.
I hope you are staying well and following the Covid-19 safety procedures. The vaccinations are now underway in hospitals, long term care homes and retirement residences so we are not far behind.
ANNOUNCING: Your Annual General Meeting is being planned for April. The Board of Directors anticipates that it will, once again, be held via Zoom. This was quite successful for our 2019 meeting which was held in October. Directors are elected, at the AGM, for a 2-year term. There are 5 positions to be filled. The Board is looking for members who are able to commit to a minimum of 2 hours a month to attend monthly board meetings. What did you do in your pre-retirement life?  Would you like to use those skills again?  Were you in finance, marketing, social sciences, or law to mention a few? If you are interested in finding out more or running for office, please call or email the office or any board member. I can be reached at 416-781-5173 or at flexible@bell.net.
A friend gave me an egg slicer. I was so excited. I examined it to see where it opened. There was a little doohickey on one end. I pushed it in. I tried to flip it up. I tried to hook my nail under it to lift it up. Nothing worked. This was a real challenge. I looked on the box, there were no instructions. I examined it once again, still nothing. I picked it up by the lid and suddenly the bottom fell and it was open. The doohickey was the hinge.
There was a Coopers Hawk or a Short-Shined Hawk sitting on a tree branch outside my living room window. It stayed for the longest time, looking around. It flew away when I turned my back to move and the floorboards creaked. I have lived here for over 40 years and this has never before happened. I hope it comes back to rest on my tree branches. Until then I will enjoy the Cardinals that come to visit daily.
Christmas was very different for me this year. In fact, I didn't realize it was so close until the Friday before although I had been listening to Christmas carols since the beginning of November and planning on having Chinese food on Christmas Day. Normally I wrap presents for days which keeps me focused on the timeline. I didn't have anything to wrap. I tried online shopping. What a fiasco!
I wanted to order an insert for my appointment book from Staples, so I went on their webpage. After looking at several pages I realized I had to narrow my search from the 2904 possibilities. I did narrow it down and eventually found what I needed. I filled in the order form but there was no "submit "button. That's when I discovered I had to create an account first. Meanwhile I had lost my item as I didn't think to write down the item number. I found the product number in my book, but when I submitted the number it was something entirely different. It was not the Staples number, it was the publisher's number. I had to find the item again. This time I wrote it down. When I first started this exercise there were 4 inserts in the store. By the time I finished there were zero, none. I still don't have a 2021 insert for my appointment book.
I purchased a box of chicken drumsticks from some grocery store a while ago. There was limited room in my fridge freezer so I took the stuff out of the box and put it into a clear plastic bag along with the cooking instructions before putting them in the freezer. A couple of nights ago I decided to have those chicken drumsticks for dinner. I followed the cooking instructions for the chicken exactly. Unfortunately, I forgot to cut out the name of the chicken dish. It did specify chicken in the instructions but it sure wasn't chicken drumsticks. I wish I knew what it was because it was very tasty.  I never thought to put the label in with the cooking instructions. I have a few more mystery packages in my freezer along with the cooking instructions. This will be an interesting month full of surprises of exactly what I shall be eating. I will survive.
I love Christmas carols but they are now off the music channels for another year. I am now back to jukebox oldies and classical.
January is a sad month; bills from Christmas come in, the sun doesn't come out much, it's cold and generally snowy. This year is different – less bills as less Christmas shopping, the sun hasn't been out much but – WHERE IS WINTER? – the temperature hasn't been too cold and there isn't much snow and BEST OF ALL our vaccination is coming. My mom got hers the other day and said it was "a piece of cake". She is in a retirement residence, not a long-term care facility. I have also heard from other members who have had their shot. Of course, if any of us are feeling the January blues we can phone each other or call Syme and staff will call you back for a chat. And we can go on the Syme web site for interesting tidbits; recipes, quizzes/jokes and exercises. Plus daylight is getting longer.  Feeling bright and upbeat is important in beating covid-19!
Our exercise classes started again. The program has been expanded. It is never too late to sign up and sign in via Zoom. Zoom can even be done over the phone. We are also having workshops. There is one on January 29th  on Covid-19 vaccinations. Phone Syme to register and for help getting on Zoom.
Wash your hands often. Wear your mask. Socially distance yourself from others. We will see one another again when this is over.
Donna Tettmar,
Board President,
Syme 55+ Centre
__________________________________________________________________________________________________
Syme & Humber College Virtual Health Fair
Friday, March 5th, 2021 @ 12:00 pm on Zoom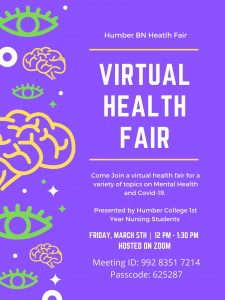 PROGRAM UPDATE
Winter 2021 Zoom Class Schedule
These classes will run from January 11 – March 26, 2021.
Monday
Pilates with Diane @ 10:00 am
Fit & Fun with Katrina @ 11:00 am
Tuesdays 
Co-Ed Fitness with Sylvia @ 11:00 am
Wednesdays
Osteo Keep Fit with Julie @ 11:00 am
Thursdays 
Flex N Stretch with Gabriela @ 10:00 am
Co-Ed Fitness with Luba @ 11:00 am
Fridays

Yoga with Sandra @ 10:00 am
PLEASE CALL OR EMAIL TO BE REGISTERED FOR THESE CLASSES AND RECEIVE LOGIN INFORMATION ALL LOGINS WILL BE NEW
__________________________________________________________________________________________________